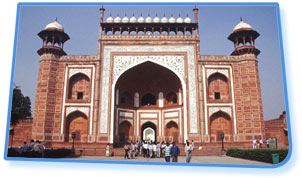 Across the gardens from the main tomb structure, there is a colossal main gateway to the south of Taj used as an entrance to this enternal tomb of love. This concept of isolated gateway was not new however as such isolated gateways were then a traditional Muslim architectural feature in the East and were meant to symbolize the divine gate to paradise. If one goes into the metaphysical interpretation of such a concept then it strikes very deep suggesting the transition from the outer physical world to the inner spiritual world. The 150 ft wide and almost 100 ft high, this majestic archway with double-storeyed buildings on both sides is made up of red sandstone.
No efforts have been spared to adorn them too, since they were to create the first impression on the visitors of the Taj. Standing on its corners are octagonal towers that are surmounted by broad and impressive open-domed kiosks. A series of eleven attached chhatris (translated as 'umbrellas') with marble cupolas were introduced for the first time and pinnacles on the north and the south sides above the central portal flank them. There is a heavy door made up of eight different metals at the base that are studded with knobs. The most notable feature are the countless rooms inside it which have twisting and branching and side branching hallways that were seemingly built to confuse its entrants but have been unused for three centuries. They are a mystery to experts who could not attach any specific purpose to them. Within its archway lies a huge chamber with a arched roof decoration.
The gateway is adorned with rich embellishments such as floral arabesques inlaid in white marble, made from precious gemstones, decorating the spandrels of the arches and especially the ingenious black marble inscriptions of Holy Quran that are exquisite examples of the expertise of Shah Jehan's calligraphers. An optical illusion has been created here that the size of the lettering is consistent all over the arch from top to bottom. It was done by gradually increasing the size of the letters in a pre-calculated manner as their distance from the eye increased. This effect is used as successfully on the main doorway of the Taj itself.
Another notable optical illusion comes into view as one sets his eyes on the beautiful tomb building of Taj while passing through the main gateway. It looks small and far away as if it was built in three-quarter scale and yet as one keeps moving towards the building, it seems to grow until it attains the mammoth proportions as one reaches its base. It makes one wonder whether the ever-expanding dome is being inflated slowly as one approaches it.