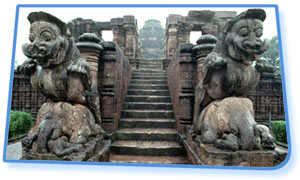 East has always been associated with spiritual growth and a forte of Hindu religion. Golden Triangle of East India is golden because of the divinity and tranquility that is attached to this tour package. It comprises of Puri, one of the four major pilgrimage sites of Hinduism; Konark, which boasts of a world heritage site of the unique Sun Temple and Bhubaneshwar, the very name of which has been derived from the Sanskrit word 'Tribhuvaneswara' (which means 'One who is the god of all the three worlds including heaven, earth and hell' and is a reference to Lord Shiva).
Bhubaneshwar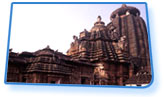 Bhubaneswar, popularly known as the 'Temple City of India', is said to be the seat of Tribhubaneswar or 'Lord Lingaraj' (a form of Lord Shiva). An important Hindu pilgrimage centre, hundreds of temples have become an integral part of the landscape of the Old Town, which once boasted of more than 2000 temples. It was here that the temple building activities of Orissan style bloomed from a mere conception to a full-fledged art over a period of over one thousand years.
Konark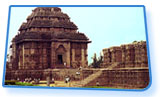 Konark is better known for its Sun Temple dedicated to the Sun God or Surya. A masterpiece of Orissa's medieval architecture, it has been chosen as a United Nations (UNESCO) World Heritage Site. The city of Konark derives its name from Konarka, the presiding deity of the Sun Temple. The word 'Konarka' is actually a combination of two words, kona means corner and arka means sun, and hence, the word 'Konarka' means 'the sun of the corner'. Once a bustling port with good maritime trade relations with Southeast Asian countries, Konark was one of the earliest centres of Sun worshipping in India.
Puri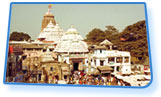 Puri as known to the Hindus all over the world as a religious center and for the good stretch of the white sand beaches on the banks of Bay of Bengal. The easy accessibility of the city, wide beaches that offer breathtaking view of sunrise and sunset, fishing farms where the traditional methods of fishing are still used by the local fishermen and fabulous resorts make it an important tourist destination. Thousands of pilgrims flock to the place to visit the famous temple of Lord Jagannath and the annual Rath yatra festival. The Jagannath Temple is one of the four most important Hindu pilgrimage sites or the Char Dham, the other three being Dwarka, Badrinath, and Rameshwaram.