Destinations covered: Delhi-Agra-Jaipur- Udaipur - Aurangabad - Mumbai
Duration: 09 Nights / 10 Days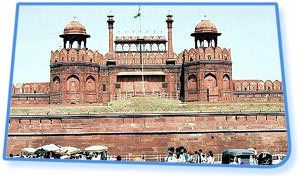 Day 01: Arrive Delhi
Arrive in Delhi and transfer to Hotel.
Overnight stay at hotel.
Day 02: Delhi
Full day sight seeing tour of Old and New Delhi.
Delhi
- The capital of India, Delhi has long been the centre of political activities ever since 13th century. Turbulent history and strategic location had left a rich legacy in the city in form of massive architectural edifices including Qutub Minar, Humayun's tomb, Red Fort, India Gate, Birla Temple, Raj Ghat, the memorial of Mahatama Gandhi who is the 'Father of India', President's House, Parliament House, Jama Mosque, tall and slender Government buildings and shopping complexes such as Chandni Chowk.
Overnight stay at hotel.
Day 03: Delhi - Agra
Transfer by Shatabdi Express in the morning to the city of Taj Mahal, Agra.
At the station you are picked up and transferred to your hotel.
Afterwards, sightseeing tour of Agra.
Agra - Visit the seventh wonder of the world, the majestic marble edifice, Taj Mahal. Later visit the Red Fort with Diwani-I-Am, Diwani-I-Khas and Moti Masjid as its focal points.
Overnight stay at Agra.
Day 04: Agra - Jaipur
After breakfast, drive from Agra to Jaipur, enroute visiting Fatehpur Sikri.
Fatehpur Sikri
- Founded by Akbar, the buildings at Fatehpur Sikri are a unique blend of Hindu and Islamic architectural styles. Akbar was endowed with the gift of a son by the blessings of Sufi saint Sheik Salim Chisti and thus, he decided to construct a new capital for his empire with elaborate palaces, courtyards, pools, harems, tombs and a great mosque. However, lack of water supply led to its desertion soon after. A World Heritage site, its highlights are Panch Mahal (Palace of Five Storeys), Buland Darwaza and Dargah of Sheikh Salim Chisti.
Arrive at Jaipur, check-in at the hotel and relax.
Overnight stay at hotel.
Day 05: Jaipur
After breakfast, half-day excursion of the Amber Fort.
Amber Fort - A Rajput architecture delight, its highlights are Diwani-i-am, Kali Temple and Jai Mandir along with enchanting gardens and magnificent marble palaces ornamented with precious stones, exotic statues and paintings.
Later, proceed for a sight seeing tour of Jaipur.
Jaipur - The Pink City, the capital of Rajasthan, Jaipur was founded by Raja Jai Singh. The beehive-structured Hawa Mahal with its delicate screen facade, the first-ever Royal Observatory of India Jantar Mantar that was built based on the blue prints of Raja himself who was good astronomer in his own right, Nawab Sahab - Ki - Haveli, the majestic City Palace and shopping place of Johari Bazaar are the chief attractions of the city.
Overnight stay at the hotel.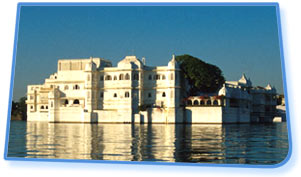 Day 06: Udaipur
You'll be transferred by flight to Udaipur.
After checking in, sightseeing tour of the city.
Udaipur - Known as 'Venice Of The East, Lake Palace on Jag Niwas Island of Lake Pichola is the most romantic spot in the world. Intricate marble work, majestic gardens and lovely blue waters all around, it speaks volumes of royal splendor and refined culture. The City Palace, Shilp Gram (Craft Village) and Fatehsagar Lake are all wonders in their own rights.
Overnight stay at the hotel.
Day 07: Ranakpur
After breakfast, excursion from Udaipur to Ranakpur Jain temples.
Ranakpur
- Often compared to Dilwara temples of Mount Abu, the Jain Temples of Ranakput are sculptural and architectural marvels with 29 halls and 1,444 pillars. Its (no two being alike), Ranakpur gets the spotlight because of its location and exquisite architecture, which can only be compared to Dilwara Temples in Mt. Abu.
Rest of the day fee to spend at leisure.
Overnight stay at the hotel.
Day 08: Udaipur - Aurangabad
Proceed to Aurangabad by flight from Udaipur.
On arrival transfer to hotel.
A short excursion from Aurangabad to Ajanta and Ellora.
Ellora Caves
- Result of the hard toil of the priests and pilgrims on the volcanic rocks of the region on their journey on the ancient trade route, these 34 sculptured caves are dedicated to Buddhism, Hinduism and Jainism. The 12 Buddhist caves range from 6th-7th century, 17 Hindu caves range from 8th-10th century and five Jain caves range from 10th-13th century. Kailasanatha Temple is the best amongst them and is the only building that has been constructed from top to bottom.
Ajanta Caves
- Close to Ellora caves, these caves were also cut out of volcanic rocks but at a much earlier era in 200 BC to 650 AD, which was then lost into obscurity for the foreigners for some centuries until discovered by a British enthusiast. Now a celebrated world heritage site, it unveils a whole panorama of the Buddhist development in India. 'Bodhisattva Padmapani', 'Boddhisattva Avalokitesvara', '17 Jatakas', 'The Birth of the Buddha' and 'The Thousand Buddhas' are some of the most prominent murals and paintings here.
Overnight stay at the hotel.
Day 09: Mumbai
Transfer to Mumbai by flight.
Arrival at Mumbai and transfer to hotel.
Sight seeing tour of Mumbai.
Mumbai
- One of the India's biggest metropolitan cities and the commercial and movie capital of India, Mumbai is a city of dreams with splendid harbors. Prince of Wales Museum, Flora Fountain, St. Thomas Cathedral, Crawford Market, Marine Drive, Malabar Hills, Hanging Gardens, Chor Bazaar and Kamla Nehru Park are not the only highlights of the city. Mumbai has India's most lively nightlife.
Evening free to spend at leisure or do shopping.
Overnight stay at the hotel.
Day 10: Mumbai
Day free to spend at leisure until the transfer to Airport for onward flight.