Destinations Covered: Delhi - Jaipur - Sawai Madhopur - Chittorgarh - Udaipur - Jaisalmer - Jodhpur - Bharatpur - Agra
Duration: 07 Nights / 08 Days
Day 1 - Wednesday - New Delhi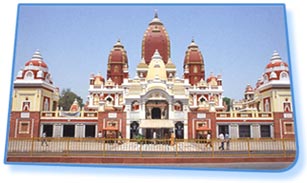 As you arrive at the Delhi Safdarjung Railway Station, the Palace-on-Wheels gives you a warm and traditional welcome. The train departs at 18.30 hrs stretching into the long night, marking the beginning of a luxurious journey of Rajasthan ahead of you.
Reporting Time:
16.00 hrs,
Departure:
18.30 hrs.
Day 2 - Thursday - Jaipur
The Palace-on-Wheels arrives early in the morning at its first destination, Jaipur. Boasting of a unique heritage and culture in itself, Japiur is the capital of Rajasthan and is world-famous as the Pink City. You are transferred into a deluxe coach, which also marks the start of your journey, wherein you explore the fascinating heritage buildings and palaces of the city. Hawa Mahal or the Palace of Winds is your first stop. This spectacular five-storied structure lies on the main street of the old city. Get your camcorders ready as you will be exposed to the marvelous semi-octagonal and delicate honey combed sandstone windows of this building. Amber Fort is the next stop on your travel itinerary, giving you an opportunity to witness an example of Rajput architecture. Ride one of the elephants to reach the peak of the mountain and view the thrilling pink city beneath. Refresh yourself at a 5-star hotel that offers an exquisite range of delicacies to satiate your hunger. You will be taken to the City Palace Museum and Observatory from hereon.
Arrival:
03.00 hrs,
Departure:
23.30 hrs.
Day 3 - Friday - Sawai Madhopur
Proudly exhibiting the erstwhile royalty, Sawai Madhopur is the next destination on Palace-on-Wheels. This backwoods city is eminent due to proximity to the famous Ranthambhor National Park. After breakfast, you will be guided to this wildlife sanctuary, offering some of the best picturesque and magnificent views of birds and animals to capture. Saunter through the streets of Sawai Madhopur to shop a few knick-knacks and curios to take back home. You will then transported back to the Palace-on-Wheels from where you head towards your next destination, Chittorgarh.
Arrival:
05.30 hrs,
Departure:
10.30 hrs.
Day 3 - Friday - Chittorgarh
Lunch and your journey towards Chittorgarh will go hand-in-hand, as you arrive here post lunch. Retreat back into the Rajput and Mughal epochs as you enter the premises of the colossal Chittorgarh Fort. Fine architecture, elegant paintings, images of chivalry and courage will be awaiting you to leave you mesmerized and awestruck.
Arrival:
16.00 hrs,
Departure:
02.00 hrs (next day i.e. on Saturday)
Day 4 - Saturday - Udaipur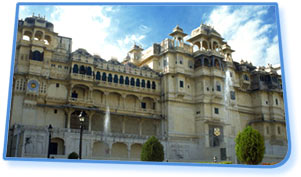 Udaipur, the Lake City is your next destination. This Venice of the East is home to one of the most romantic spots in the world. The Jag Niwas (Lake Palace) and the Jag Mandir, located on Lake Pichhola, offer majestic gardens and soothing blue waters to sweep you off your feet. Your lunch will be organized at a 5-star hotel after which you will be touring the overwhelming City Palace.
Arrival:
08:00 hrs,
Departure:
15.30 hrs.
Day 5 - Sunday - Jaisalmer
Make your way into the erstwhile center of trade and commerce as you enter Jaisalmer. Enriched with intricately carved havelis, Nathmalji-ki-haveli, Patwon-ki-haveli and Salim Singh-ki-haveli are just a few examples to name. The gigantic yellow sandstone fort situated atop the city provides picturesque views of the valley below. To add on, Jaisalmer is chock-a-block with various traditional trinkets, curios and lots of knick-knacks. Stuff yourself with a healthy meal on board as a camel ride awaits for you next. Ride through the sand dunes of Sam followed by a stimulating and refreshing cup of tea accompanied with snacks. Retreat back with a dinner in a 5-star hotel alongside a cultural program.
Arrival:
09.15 hrs,
Departure:
23.45 hrs.
Day 6 - Monday - Jodhpur
The Palace-on-Wheels makes way to its next city, Jodhpur on the 6th day. Guarded by several bastions and gates, Jodhpur is known for Mehrangarh Fort, one of the largest forts in India. Moti Mahal, Sheesh Mahal, Phool Mahal, Sileh Khana and Daulat Khana are some fine examples of royal architecture highlighting the city. The white marbled Jaswant Thada is another worth-mentioning attraction. The Palace Hotel will welcome you for a lavish lunch amid royalty and splendor. Pick up some exclusive Jodhpuri handicraft items, such as breeches, paintings, silverware, tie and dye fabrics, embroidered shoes and metal curios.
Arrival:
07.00 hrs.
Departure:
15.30 hrs.
Day 7 - Tuesday - Bharatpur / Agra
Bharatpur
Arrive early morning in Bharatpur, where after breakfast, you will be guided to one of the worlds best water-bird sanctuaries. Keoladeo Ghana National Park is home to around 400 species of migratory birds, thus often termed as the bird-watchers paradise. Do keep your camera handy so that you do not give any bird a miss.
Arrival:
05.00 hrs.
Departure:
08:45
Agra
The seventh wonder of the world, the Taj Mahal is waiting for you here. After you visit to the Agra Fort and wrap up your lunch, its time to view the majestic marble monument depicting true love. Make sure that you pick up a miniature Taj to cherish the splendid marbled edifice for life-long.
Arrival:
10:30 hrs,
Departure:
23.00 hrs.
Day 8 - Wednesday - Delhi
On the 8th day of your journey on the Palace-on-Wheels, you arrive back at the Delhi Safdarjung Railway Station, ending your memorable sojourn. After your breakfast on board, depart for your respective destinations to move onwards.
Arrival:
04.00 hrs.