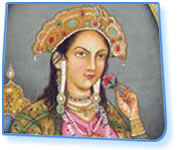 Prince Khurram, the later-day Shah Jehan, was the favorite and the eldest son of Emperor Jehangir and thus, was also the heir to his throne. It was in 1607, while he was still a teenager when he was dressed up royally in his prince-like ensemble and was liking very handsome, when he chose to walk across Meena bazaar, a private market attached to the harem of his palace. While every maid was trying to steal a glimpse of this would-be-king, it was 14-year old Arjumand Banu who stole the heart of this prince. A commoner in every sense, selling silks and glass beads at her shop in the market, she had no delusions that ever in her life a prince would lose his heart to her.
Content to be a distant relative to the prince, the daughter of Empress Noor Jehan's brother Asaf Khan, she was not at all dazzled by the charms of the prince when he was drawn to her and talked to her enticed by her beauty and jumped upon a chance to talk to her on the pretext of inquiring about the price of a piece of glass at her stall. Instead, she answered boldly that it was not a piece of glass but a diamond and was worth a considerable sum of ten thousand rupees, which he may not afford. Just like a skillful shopkeeper, she hit right on spot and the ego of the prince goaded him to buy the diamond immediately, yet, sleep evaded the eyes of the prince that night.
Next day Khurram sought the permission of his father to marry the girl, which was readily granted but it was only after five years that he could finally marry Arjumand. In 1612, when he was 20, he was united to Arjumand. There were grand celebrations and Arjumand Banu soon proved herself worthy of the great honor bestowed upon her. Her matchless beauty was only complimented by her compassionate, generous and coy nature. During 19 years of marriage, she bore him 14 children together and always accompanied him on his fight tours. It was only during the birth of her 14th child that she finally had to leave the arms of her beloved as she bid adieu to the mortal world forever. However, when she was on her deathbed, she made her husband promise to make one of the most beautiful mausoleums for him, which he faithfully fulfilled later.