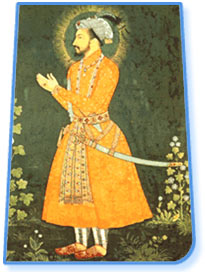 The fairy tale of a prince and would-be-king and a commonplace girl selling souvenirs in a local market outside his palace, the love story of Shah Jahan and Taj Mahal was not less dream like. One can still see numerous evidences of Mughal Emperor Shah Jahan's love for finesse and beauty etched in the number of beautiful buildings that he had he constructed in his lifetime. However, it reached its zenith in Taj Mahal, rightly said to be 'elegy in marble'.
Emperor Jehangir named his heir and son, Khurram, who later came to be known as Shah Jehan after ascending the throne in 1628. He ruled for thirty years and was famed as a great patron of the arts and architecture. Especially, the steep rise of Indo-Persian style of Mughal painting and increasing finesse in architecture during his reign is legendary. He replaced the rough-textured sandstone, favorite of his predecessors, with the elegant and luxurious marble. The abundance of white marble buildings that were raised during his time even tempted a scholar to venture his period as the reign of marble.
The introduction of the cusped arches and pillars with tapering shafts were just some of the very few refinement and changes that were brought about in the architecture during his time along with the increasing use of European motifs and imperial and paradisiacal themes. It is said that he died while seeing Taj Mahal, the best and most graceful expression of his dream, while lying in the Muthamman Burj (translated as 'Jasmine Tower') in Red Fort of Agra, where he was forced to pass the rest of his days in captivity by his son, Aurungzeb, who revolted against him in the struggle for the throne.