Jantar Mantar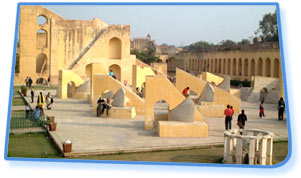 Jantar Mantar of Jaipur, the 'Yantralaya' of Sawai Jai Singh II built on his designs, is the largest of five astronomical observatories founded by him in 1716. The others are at Delhi, Ujjain, Mathura and Varanasi. It is a marvel in itself with its huge masonry instruments of extraordinary precision that can still be used quite efficiently.
The Jantar Mantar was visualized as a quest for ascertaining the mysteries of the Cosmos. The Jantar Mantar found its name from the Sanskrit word 'yantra mantra', which meant 'instruments and formulae'. Built not only to verify astronomical observations but also to kindle interest in science of astronomy, which had been entangled in theory, superstition and religious terminology, Jantar Mantar was built on the basis of an observatory at Samarkand. The huge instruments could determine the position of the equator, latitudes and longitudes on the grounds of the rules of the astronomy. The main instruments stationed at Jaipur are the Samrat Yantra, the Jaiprakash Yantra, Ram Yantra and the 'composite instrument' that included a sundial and an enormous hemisphere on the northern wall.
Hawa Mahal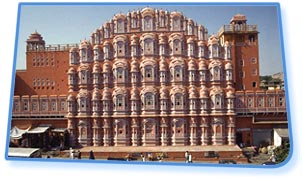 Hawa Mahal is a multi-layered palace with a beehive structure built by Sawai Pratap Singh (grand son of Sawai Jai Singh and son of Sawai Madho Singh) in 1799 and was designed by Mr. Lal Chand. The beautiful use of red and pink sand stones outlined with delicate white borders and motifs are simply out of this world. Overlooking one of Jaipur's main streets, it was originally constructed for the women of the court so that they may pass their time by watching hustle-bustle of the bazaar without being watched by people on the streets. The entire building is shaped to resemble a crown adorning Lord Krishna's head. It offers splendid views of the city, including the many old palaces and houses. Surprisingly, there is a total lack of ornamentation in the interiors of the building and chambers are stark and plain with a mass of pillars and passages that lead to the top storey.
Jaipur Hotels
:
Samode Palace
-
Jai Mahal Palace
-
Rajputana Palace Sheraton
-
Rambagh Palace
-
Trident Hilton