National Rail Museum, Delhi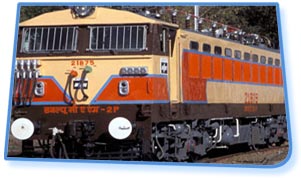 Sprawling across 10 acres of land, National Rail museum is a must for all those who suffer from the nostalgia of good old times and long to retreat to those days when the steam engines gave a long inviting whistle just before the train started rolling off the platform. The locomotives displayed here are in themselves a storehouse of information on the history of railways in India as they range over the 150 years of the railways in India. The highlights of the museum are - a model of India's very first train, a steam engine that made its journey from Mumbai to Thane in 1853, the oldest locomotive in the world, which is still working, the Viceregal Dining Car of1 889, the Prince of Wales Saloon of 1875, Maharaja of Mysore's Saloon of 1899, Maharaja of Baroda's Saloon of 1886 and the best of all, the Fairy Queen built in 1855, which is considered to be the best preserved steam locomotive engines of her age. The imperial saloons are a delight to see with their elaborate interior designs. Children love a ride in the toy train that takes them around the museum on a miniature rail track.
Delhi Crafts Museum
The Crafts Museum situated at Pragati Maidan in Delhi has galleries that showcase India's rich tradition of handicrafts. Some of the most rare and lovely pieces of art and craft that have been carefully and selectively collected from all over the country can be found here. Started in 1956, the Crafts Museum kicked off in 1956 had collected over 20,000 objects by early 1980's. The tribal and rural handicrafts spotlighted here include authentically constructed mud huts delightfully decorated with folk art, woodcarvings, paintings, paper- mache crafts, embroidery and even a full-sized wooden haveli from Gujarat. Besides the Tribal and Rural Craft Gallery, it houses Crafts Museum Shop, Gallery of Courtly Crafts, Textile Gallery, Gallery of Popular Culture, and a reference section for the scholars, designers and crafts persons. Tourists are very much attracted by the live demonstrations by the revered artisans and skilled persons invited here from different regions who offer close glimpses of the Indian folk arts and the methods of making them.
Shankar's International Dolls Museum
One of the largest and best collections of costume dolls all over the world, Delhi Dolls Museum is suitably named Shankar's International Dolls Museum after its founder K. Shankar Pillai. In 1957, the museum had kicked off with its modest collection of just a thousand dolls. 5,000 more dolls were added to its collection (most of them were sent in as gifts) between 1965 and 1987. Today, the museum boasts of over 6,500 exhibits from 85 different countries. There are two sections of the museum. One of them displays dolls from Yugoslavia, Greece, Mexico, Thailand, Poland, South Korea, the United Kingdom, former USSR, North and South America, Australia, New Zealand and other countries while the other section displays dolls from Asian countries, the Middle East, Africa, and different states of India.
The highlights of the costume dolls are ones that have come from Rajasthan, Kashmir and Kerala, a 250-year-old doll from Switzerland, Maypole dancers of Hungary, Flamenco dancers of Spain; the Kabuki dancer of Japan, a scene from the Ramayana imported from Thailand, Bridal pairs of Indonesia, Kandy Perahera Festival of Sri Lanka and many more. There are also special displays on themes such as Man on the Moon, Gandhiji's Dandi March, A Kathakali Stage and others.
Gandhi Museum, Delhi
The origin of this Museum has its roots in the times, when soon after the much-regretted assassination of Mahatma Gandhi on January 30, 1948, efforts started in Mumbai to search, collect and preserve personal relics, photographs, manuscripts, books, journals and documents and the audio-visual material related to Gandhiji's life, philosophy and work. Later, the collection and the work shifted to Delhi and in early 1951, a museum dedicated to the Father of Our Nation was set up in the Government hutments adjoining Kota House. The present place is the third home to the museum and is believed to be the permanent one built strategically at Raj Ghat, opposite to Gandhiji's 'samadhi', in 1959. Dr. Rajendra Prasad, the first President of India, formally inaugurated this imposing two Storey Museum on January 30, 1961 and it was named 'Gandhi Memorial Museum' or 'Gandhi Smarak Sangrahalaya'. However, due to many regional museums springing up with the same name, it is now popularly called 'National Gandhi Museum' or 'Rashtriya Gandhi Sangrahalaya'.
Indira Gandhi Memorial Museum
The Indira Gandhi Memorial Museum is devoted to the first and only women Prime Minister yet. It is situated in New Delhi at her former residence. The house stands amidst a beautiful garden full of mature trees and pretty fragrant flowers. No alterations have been done to Indira's library and living room and has been maintained to look the same as she had left them on the day of October 31, 1984, when she was killed by her own Sikh bodyguards while she was strolling in the gardens. The public is not allowed to enter these rooms but one can have a peek inside the rooms from the windows that open out in the gardens. The path where she was assassinated is pictured here as a memorial. There is a rare collection of photographs that documents the life of this, one of the most prominent leaders in India, from her childhood to her days as Prime Minister. The house also has a number of rooms that have been decorated to her son Rajiv Gandhi, who was himself immensely popular among the masses when he was a Prime Minister and even after that until he was assassinated in May 1991.
National Museum or Yadughar
The National Museum is a fascinating spot located very close to India Gate. The museum has an affluent variety of all sides of ancient Indian history and also that of central Asia. In fact the museum takes one through an enthralling journey of ancient India and exhibits pottery, rare coins, and many other things that includes art, architecture and costumes of those times. A must-see for every tourist, its foundations were laid in 1955 by Jawaharlal Nehru and it was opened for the public in 1965. Collections from Mahenjadaro, Harappa, Lothal, Kalibangan and antiques of prehistorical periods have been showcased here vividly displaying the history dating back to 5000 years.
There are collections of Indus civilization, Brahminical, Jain and Buddhist sculptural antiques, color paintings of Mughal, Rajput and Deccan empres and also the holy Git Gobinda, the holy Mahabharata and the holy Bhagawat Gita written in golden alphabets. Octagonal mini Quran, Jahangir's diary, Babarnama in Babar's handwriting, musical instruments of more than 300 types and varieties of tribal dresses supplement the museum with their sheer presence. The antique collections of Sir Aurel Stein are also a craze among the visitors. The women love the section that deals with the evolution of ornaments through ages from prehistoric era to recent modern times and the change of trends in their shapes, sizes, designs and patterns and of metallic combinations with or without jewels set into them.
National Museum of Natural History, Delhi
Meant to promote environmental awareness and educate people about the immense importance of conservation, the Museum houses along with its various exhibit galleries, a Bio-Science Computer Room, an Activity Room and a Mobile Museum, used to promote environmental awareness among different target groups. The museum also arranges various in-house and outdoor activities from time to time such as the film shows and activities for the benefit of school children and teachers within the museum premises. They also arrange a month-long summer programme for teenagers titled 'Know Your Environment', where children are encouraged to make nature painting and animal/plant modeling. Besides these programs, the educational activities of the museum include LEARN (Lesson on Environmental Awareness and Resources) Programmes for schools children of Classes VI to XII and publication of popular environment education resource materials.
Nehru Memorial Museum, Planetarium & Library, Delhi
Designed by Robert Tor Russel as the residence of the British Commander-in-chief and built in 1948 to the south of Rashtrapati Bhawan, Trimurti Bhawan was converted in 1954 to the residence of the Prime Minister of India. As Jawaharlal Nehru continued to be the Prime Minister during his lifetime, it continued to be his residence until his death in 1964. After that, it was devoted to him and was converted into Nehru Museum. It depicts the life of Jawaharlal Nehru against the backdrop of the different stages of the Indian freedom movement of his time. There is a library of printed materials, books, periodicals, newspapers and photographs focusing especially on the history of modern India. Among other things a repository of unpublished records of institutions and private papers of eminent Indians kept here can prove to be a primary source for historical researches. The prizes, awards and honors received by Mr. Nehru are also displayed here along with his photographs. A beautiful rose garden and the historic speech of Jawahal Lal Nehru that he gave on the eve of 14 - 15 August, 1947 inscribed on a stone in Jawahar Jyoti garden are a delight. However, the best part is to see glimpses of Nehru's life as a part of Indian freedom struggle in Nehru planetarium or Son-et-Lumiere accompanying the museum.