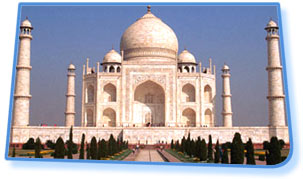 India's top tourist attraction, Taj Mahal is the ultimate requiem of love, from a great Mughal Emperor to his beloved. Made up of white marble, this mausoleum has immortalized Agra as the City of the Taj.
Agra had been the chosen city of Mughals for years as it was close to Delhi. However, the history of Agra is much more older than the times of Mughals. The great Hindu epic 'Mahabharat' refers to 'Agraban' as an integral part of the Brij Bhumi or the land of Lord Krishna. It is claimed that this was the region of Agra, covered by forests then. However, the city is said to be founded in 1475 during the reign of Raja Badal Singh. Mughal monarchs transformed the land into one of the great centres of art, culture, learning and commerce. Massive monuments, majestic buildings and still flourishing arts and crafts including leatherwork and pietra dura marble-inlay work along with delicious Mughal cuisine have now become an inseparable part or more, the identity of the city.
Besides Taj, many other magnificent monuments are a testimony to the zenith and golden period of the Mughal architecture. There is Agra Fort and Itmad-ud-daulah that are gems of Mughal architectural style. Babur laid out the first formal Persian garden here on the banks of the River Yamuna. Sikandra, just outside Agra, is the beautiful garden mausoleum of Akbar. Hardly, any tourists go back from India without visiting Agra, if only for the seventh wonder, Taj Mahal.
Agra Hotels
:
Mughal Sheraton
-
Jaypee Palace
-
Hotel Taj View
-
Trident Hilton